KIDS YOGA and Baby Yoga
Yoga for Children Ages 3-5
Yoga for Children meets on Thursdays from 11:30am-12:15pm beginning on Thursday, Sept. 25 with a free class so you can check it out. Parents are welcome to drop off children or stay and observe.
The class I teach is imaginative play based. Every pose is tied to an element children can relate to and understand. The Adventures of Super Stretch curriculum is specifically designed to allow children to have an invigorating, interactive, and imaginative journey into their developing mind, body, and spirit.
Yoga has a centering effect on children. It aids in constructing their confidence from the inside out. Kids love the movement and creative expression associated with the poses. There is no emphasis on producing an end product, just a joy in the process. Children always feel successful in yoga; there is no competition, just an individual progression. Any child can enjoy yoga!
Yoga Benefits for Kids (and adults!)
-increases flexibility and improves coordination
-develops concentration
-reduces and manages stress
-develops self awareness and confidence
-develops strong, flexible bodies
-explores and expresses creativity
-develops self respect and respect for others
-teaches self control and body awareness
-develops trust
Come breathe, stretch and play!
Cost: $50 for 6 weeks or $10 drop-in
Questions? Contact Brittany Olander brittany.olander@gmail.com
Yoga Bonding with Baby
Yoga Bonding with Baby meets on Wednesday mornings
from 11:30-12:30.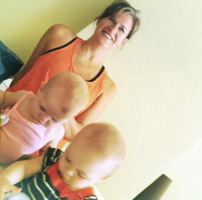 This special class is a baby integrated postnatal yoga practice designed for babies and caregivers from 6 weeks to crawling. This sequenced program is designed to meet the developmental needs of babies nurturing and fostering rhythms for sleep, digestion and more.
Although Yoga Bonding© is perfect for dads and caregivers, there is special attention placed on the needs of moms in the postnatal period. Come, enjoy an hour with your baby. Learn new ways to bond, enhance your connection, and find community.
Cost: $75 for 6 weeks or $15 drop-in
Email Sarah to find out more about the class: ksc.sarah@juno.com